There have only been two times in my life where a movie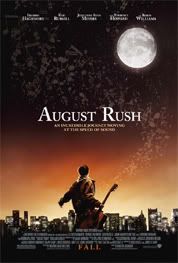 or theatrical performance has been so amazing that I've been forced to sit in my seat for some time after it's ended, too emotionally drained to move. The first time was at the City Center's Encores! presentation of
Gypsy
last summer. The second happened last night when I saw
August Rush
. It's not that either of these stories have any particular thing in common, except that they ring remarkably true and are so beautifully executed that they leave the viewer wholly satisfied and thoroughly exhausted.
August Rush
is a story of a boy who wants to be found – a boy who understands that the universe doesn't operate around red tape or on the mere "laws" of nature and logic. This young orphan boy knows that beyond our pretense of human control, something else holds the universe together. He understands that God draws straight with crooked lines. The odds are morally, logically, and common sensically against him. Who finds his lost parents through music? Lost parents who don't even know he exists? No one. But August goes on believing. It's this faith that brings him through. And it's the same faith – lost and regained – that brings his parents to him.
August Rush
won't surprise you with plot twists or special effects or trips to magical lands. What it will do is cause you to look for the story in your life and the music that constantly swirls around you. It will show you that there is enough magic in this world that inhabitants from other so-called magical lands should be beating down the door to get into ours.