It's rare that a musical can both effectively break your heart and help heal it by the end, but
Next to Normal
does just that. With a cast lead by arguably the best musical theatre actress of our day (
Alice Ripley
, finally back in New York after an eight-year absence), this little Off-Broadway show is a perfect example of the elusive show than can both move and teach, that can break you down and build you up again.
Diana Goodman is typical suburban mom with a not-so-typical problem: manic-depression. But it's the source of Diana's depression -- and all the baggage that goes with it -- which makes this musical so brilliant.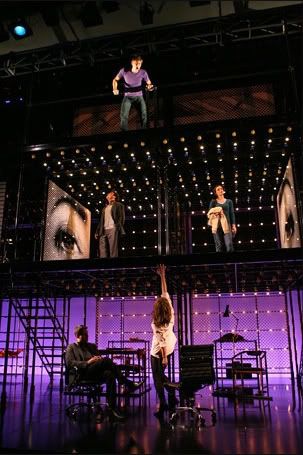 With the addition of heartbreaking performances by
Brian D'arcy James
and Jennifer Damiano, the solid Asa Somers, and the haunting
Aaron Tveit
,
Next to Normal
touchingly portrays the problems caused by dealing with the symptoms of anxiety and depression without addressing the underlying root of the problem; giving a limbless man morphine doesn't stop the bleeding or heal the wound, it only numbs the pain. As Diana puts it, after sixteen years of unsuccessful treatment: "What happens if the cut, the burn, the break/was never in my brain, or in my blood, but in my soul?"
In our over-medicated society, it is both heartbreaking and refreshing to see a show that reveals the dangers of jumping to pharmaceutical conclusions and moves us to consider that sometimes the only thing worse than the symptom is the cure.