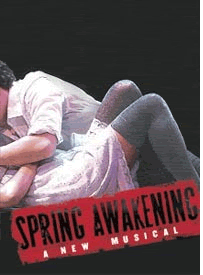 You might be wondering why I haven't followed the theatre world at large in writing a gushing recommendation of Spring Awakening. After all, it did garner 11 Tony nominations (that's every eligible category but two) and 4 Drama Desk Awards, including Outstanding Musical. That's gotta be good for something, right? Well, that depends on who you ask.

New York Times theatre critic Charles Isherwood will give you some drivel about adolescent sexual discovery, other critics will drone on about raw teen angst, and message board theatre queens will overwhelm you with effusions about how there's "finally" a show that "really gets" them. That is, as you may recall, the same thing they said about Hair and RENT in their heydays. And like RENT, Spring Awakening does have some truly catchy songs. "Mama Who Bore Me" captures an insistence and a certain measure of angst that few composers have been able to, including the marvelous dissonances in its reprise. Unfortunately, the lyrics fail to tell us what the characters are insistent about or where their angst is coming from. Oops.

The other notable song is the regrettably lyriked "The Bitch of Living." It's one of the catchiest tunes I've heard on Broadway this season, but it falls into the trap of assuming foul language and artistic genius are synonymous.

It's this overall foulness that prevents me from recommending it. The taglines alone are enough to warn discerning theatergoers. "A barrier-breaking fusion of morality, sexuality, and rock & roll." "A story of uncontrollable emotions and undeniable passion, of first love and lasting regrets." There's not much redeemable in a story about "sexually repressed" 14-year-olds who get into all sorts of trouble because of their ignorance, including having the sex they've been repressing (you get to see it, too!), masturbation (live, and on stage!), pregnancy, botched abortion, and suicide.

Overall, Spring Awakening is so antithetical to truth, goodness, and beauty that it has become the best argument for theatrical reformation. If you want to see truly great theatre, save yourself the airfare and catch the tour of The Light in the Piazza.