I've never liked
RENT
. I still don't. I think it is an objectively bad musical, poorly constructed, full of annoying songs and trite lyrics, and just barely carried out with flair. My dislike for this musical has embittered me against the oft-repeated refrain, "
RENT
was a revolutionary musical that changed the face of theatre forever."
Then Tony night happened.
Since the Broadway production of
RENT
is closing this September, the powers that be brought the original and current casts together on the same stage for the 2008 Tony Awards in tribute to the show that "changed the face of Broadway."
They sang a "La Vie Boheme"/"Seasons of Love" medley
and it wasn't until they showed the audience reaction that I understood just what sort of impact
RENT
has had on the Broadway community. Among others,
Sunday in the Park with George
star Daniel Evans sat there grinning and singing along like the fan boy I now suspect he is and Patti LuPone herself was actually rocking out in her seat. These aren't rabid, thirteen-year-old fangirls; these are industry professionals. But the most glorious moment – the moment that forever changed my perception of
RENT
– came when the old and new casts had barely finished singing and Lin-Manuel Miranda leapt to his feet, barely able to contain his tears of joy. It was then that I realized that the creation of
In the Heights
can be traced back directly to
RENT
.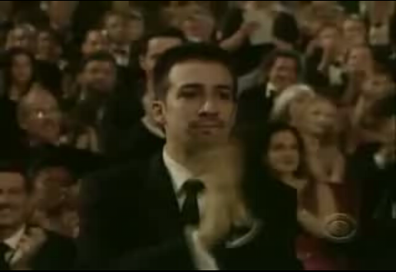 RENT
may not be the best of musicals, but it certainly broke the mold. It freed more talented creators to make musicals that speak to the youth of today, while retaining those elements of the Golden Age that make a musical a musical. And now I can join the throngs of theatre fans in honestly saying:
Thank you, Jonathan Larson.